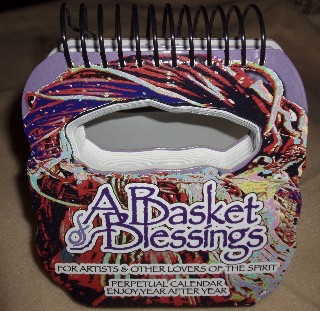 "A Basket of Blessings"
for artists and other lovers of the Spirit
A perpetual calendar to enjoy year after year
Created by Mary Lee Fulkerson

Begin each day with a blessing to yourself
and the day will rise up to greet you.
Retail Price: $15.95 ($4 shipping fee) GBB Member price: $10.00
All proceeds are allocated to the GBB scholarship fund.
Contact
gbbreno@gmail.com
or send your request with your check to P.O. Box 11844, Reno, NV 89510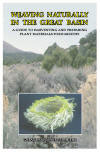 "Weaving Naturally in the Great Basin
A Guide To Harvesting And Preparing Plant Materials For Basketry"
The seed was planted for Great Basin Basketmakers' book 17 years ago. It was at GBB's December 2000 Holiday potluck that a committee was formed to work on publishing a book about using natural materials that are found in the Great Basin. The idea was inspired by the field notes and research done by GBB member Nadine Tuttle, who had recently passed away. It has taken a basket full of meetings, a basket full of research and many basket fulls of hours of dedicated work, but GBB's book, "Weaving Naturally in the Great Basin; A Guide To Harvesting And Preparing Plant Materials For Basketry" is finally a reality. With over 100 pages of information on identifying, harvesting, preparing and using plant materials found in the Great Basin area of Nevada, this is a book that all basketmakers will want to own. Many of the plants featured in the book are available in other areas of the country.
The spiral bound book has a full color gallery section as well as line drawings of the plants used for basketry. There are tips, hints and project instructions for making baskets from natural materials as well as a section on making cordage. The book sells for $16. If you live out of town, we will mail your book to you. Make checks payable to Great Basin Basketmakers and include $4 shipping fee per book. Mail payments to Janice Johnson, 407 Armstrong Ct, Dayton, NV 89403, you can also email Janice at:
janiceattheranch@gmail.com. We want to thank all the GBB members who contributed information on plants and their weaving experiences as well as photographs of their work. Don't miss out on getting your copy now!
"Self-Guided Walking Tour of the Great Basin Basketry Plants"
GBB is proud to announce the availability of a brochure highlighting a self-guided tour of the basketry plants within the Arboretum. A dedicated team produced the document, which includes a map of those plants included in our publication Weaving Naturally in the Great Basin. Copies of the brochure can be found at the
Rancho San Rafael office. Check out all the other opportunities happening at the park!
Library Inventory List